SUPERIOR NO. 6
JEWELRY BRAZING PASTE FLUX
A Very unique Brazing and Silver Soldering Paste Flux, which embodies "an entirely new chemical principle". It differs widely from ordinary­ silver solder fluxes. It is neutral - not acid - absolutely non-corrosive - will not burn hands or skin. It contains no free fluorides - cannot generate Hydrofluoric acid - no harmful effects on eyes, nasal passages or lungs. It eliminates all occupational hazards which are inherent in acid fluxes. Being Alkaline parts prefluxed can be laid aside and will not corrode. Flux has as temperature range of 900 - 1600 deg. F (482 - 871 deg. C) and is used for brazing, and silver soldering ferrous and nonferrous metals, including carbides, nickel, Copper, Copper-based alloys, Bronze, Brass, German Silver­ as well as the precious metals like Gold, Silver, and Platinum.
Flux can be thinned and cleaned up with water.
This flux is for High temperature Brazing and Silver Soldering
No. 6 was introduced in 1943 and has been the standard for environmentally safe but effective Jewelry Brazing Flux.
Covered by US Patent No. 2357014
NO Shipping Restrictions
available in: 5, 10, 16 Oz. Jar and 5 Pound Jar
Excerpt
Society of American Silversmiths
Newsletter
Jeffrey Herman, who specializes in silver restoration and conservation, has tested the fluxes and says. "These soldering and brazing fluxes are what the industry desperately needs. Many times, safe alternatives in our field tend to come up short on the performance end. These fluxes performed very well and cleaned up easily. They cost no more that their hazardous counterparts containing fluorides, chlorides, and other harmful ingredients. And even if they were more expensive wouldn't you buy them anyway for increased safety and disposal?"
Visit SAS: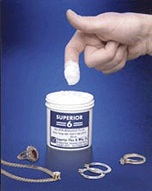 We do not carry high silver content silver brazing alloys for precious metals and high strength brazing.
Check industrial suppliers or Silversmith sites.
HAZARDS
See SDS for complete information