Click Arrow for Next Product
Browse our Web Site for complete information about all our fine products.
Since 1932
Superior Flux has been a Leader in research and development of new and innovating fluxes. A leader in environmentally friendly fluxes since 1943.
H&N is an authorized distributor.
Read more at
Soldering Products
Made in USA
Our Speciality
Soldering and Brazing Flux Since 1981
ABOUT SUPERIOR FLUX
See Below
Superior No.30
Supersafe™ Soldering Flux
The Standard since 1949 for environmentally safe and high performance Soldering Flux.
SOLDER
Copper, Brass, Pewter, Tin, Nickel, Cables, Nickel Silver,Circuit Boards Stained Glass,
Model RR Track & Wiring
LIQUID
The Best for
Electronics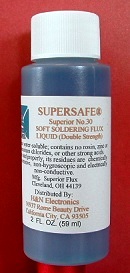 SUPERIOR NO.30 IS NON-HAZARDOUS AND ENVIRONMENTALLY FRIENDLY.
NO SHIPPING RESTRICTIONS
CLICK PICTURES FOR MORE INFORMATION