Dispensing Bottle and Spout
For Liquid or Gel Flux
The large spout will fit our 2,4,8,16 Oz bottles of Liquid or Gel Flux. Use this spout to dispense flux, or use to fill smaller 1/2 Oz. bottle. We provide with each order for 1/2 Oz bottle a 3 inch length of small plastic tubing (.0253" 22 gauge (AWG), this can be inserted into the spout for dispensing a small drop of flux. You can also use the spout without the tubing.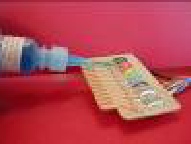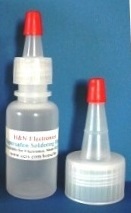 HINTS ON INSERTING TUBING INTO TOP
First cut a small length of the tubing and insert a stiff wire into it. I used a needle. Place a pointed tapered object into the tip (I used a metal scribe) and push down a small amount, remove and place the tubing into the opening before it closes. You may need to do this a couple of times to get the opening right. Do not make the opening too large, too large and the tubing will fall out. You can do the same with the large spout, or just drill a hole if just using for filling the smaller bottle.